Your Cardholders Still Want ATM Access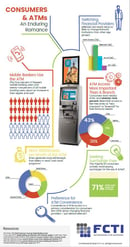 However, just as demand for a personalized experience has become ever more popular, account holders are increasingly choosy about how and where they interact with the ATM.
Find out how cardholders currently see and use the ATM!
Fill out the quick form below to download the complete infographic "Consumers & ATMs...An Enduring Romance".